Watersports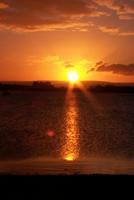 Sunset at Galway Bay
Galwegians make the most of their location on the edge of the Atlantic. They fish, swim, row, canoe and enjoy all kinds of water sports in the Ocean. During the warm summer months many people enjoy a dip in the Corrib to cool down.
Canoists in the city ride the rapids along the river Corrib all year around. Its an exciting sport particularly in the Springtime when the water table is high after the winter months.
Galway is a wonderful location for water sports - Join in and enjoy a dip in the river or in the envigorating waters of the Atlantic Ocean.