Bridge Mills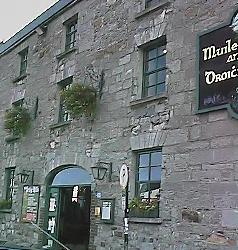 The Bridge Mills is situated just past O'Brien's Bridge, on the banks of the river Corrib. The sight of this picturesque building, with its cut-stone facade (which has been beautifully restored) is truly remarkable. This 430 year old building, stands majestically head and shoulders above other surrounding buildings. The building houses a charming shopping centre with the tiny specialist shops blending in perfectly with the building's impressive historic features. The Bridge Mills celebrates its medieval origins during the summer months with medieval banquets, held nightly, which feature full period dress and entertainment.
Shops and businesses:
Basement: Restaurant. Ground Floor: An Gairdín (Florist), Pashas Corner, An Bhrian (Swop Shop), The Source Galway, Corrib Antiques. First Floor: Galway Language Center, Bridge Mill Gallery. Second Floor: KT Business Skills, Alliance Francaise, Galway Zen Dojo, Pitman Training Centre.