About Connemara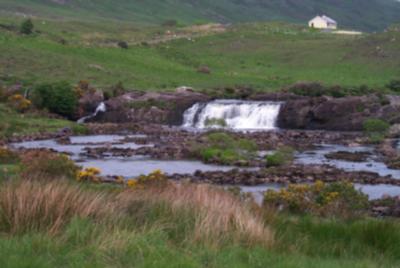 Waterfall at Leenane Connemara
There is a wildness about the west. Its coastline has weathered millions of years of Atlantic onslaught and it shows. Barren and rugged it has the raw beauty of a wild rocky terrain not given to pampering its inhabitants. But it has colour too. Mother nature redresses its sometimes tempestuous environment with incredibly beautiful mountains and seascapes. There really is nowhere quite like it in any part of these islands. Its inland areas are rich in meadow lands, lush hedgerows, and heavily leafed trees. The coast, a maze of tiny walled fields, white bog cotton waving in the summer breeze, roadside banks of fuchsia and white sandy bays.
Connemara is a unique and very special part of County Galway. It is situated on the most western seaboard of Europe, and features breathtaking scenery, a rugged unpolluted coastline, dramatic mountains, numerous lakes and rivers, woodlands, and a National Park. A wide variety of outdoor activites includes fresh water and deep sea angling, walking, cycling, canoeing, surfing, sailing, swimming, diving, sea-cruising, snorkelling, golfing, pony trekking and bird watching.
Many of the inhabitants of Connemara are Gaelic speaking. The Irish langauge (Gaelic) is the everyday spoken language in large areas of Connemara known as the 'Gaeltacht'. The people are warm, friendly and extend a hospitality which is the essence of Ireland
Some of Ireland's finest scenery is in North connemara. The area's National Park covers about 4,000 acres of untamed countryside, around the village of Lettterfrack which was founded by the Quakers. Four of the Twelve Ben mountain range, including Galway's highest, Benbauun, are in the park so it's ideal for hillwalking. This area is rich in archaeological remains. The roads around Lough Inagh, Kylemore and Leenane are especially scenic. Killary Harbour, which separates Galway from Mayo is on the road to leenane. This long, narrow, fjord like inlet, sheltered by mountain walls, is impressive.