October 2005
Baboró - International Arts Festival for Children (17 - 23 October)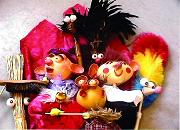 Today, Baboró International Arts Festival for Children is recognised as the leading Irish Arts Festival devoted exclusively to children, with over 40,000 children having attended shows and participated in workshops since 1997. Baboró have been particularly successful working with teachers and marginalized children in this way. The best in creative work designed for children and families. Contact: Ms. Lali Morris, Tel: 091 509705 or visit the website!
Ballinasloe International October Fair and Festival (1 - 9 October)
A 9 day event to cater for equestrian lovers, family entertainment, music and craic. There is something at this Fair/Festival to suit all tastes. Horse and pony events, showjumping, street stalls, fireworks, tug-o-war, street and vintage parade, music and children's events. Contact: Ms. Mary Phelan, Secretary, Ballinasloe Fair and Festival Ltd., Ballinasloe, Co Galway. Tel: 090 96 43453. Fax 090 96 44132. Email: croffyc@eircom.net. For more details click here!
Cooley - Collins Traditional Musical Festival (28 - 31 October)
Music sessions, set dancing, under 18 competitions ? button accordion/tin whistle. Mass services for both musicians Joe Cooley and Kieran Collins. Craic agus Ceol. Contact: Ms. Mary Coen, Tel: 091 632370 or mobile: 086 3823765.
Culchie Festival (27 - 30 October)
This festival started in 1989 in Clonbar Co. Galway, it is now seen as the male version of the 'Rose of Tralee' festival. With everything from horse shoe throwing to 'Kulchie Karokee' it is assured that great craic is to had by all. For more details click here!
Guinness Jazz Festival (28 - 31 October)
The Guinness Cork Jazz Festival is Ireland's biggest and most prestigious jazz event and is one of the most important events on Ireland's arts and cultural calendar. Cork City, situated on Southern Ireland's scenic coast, is well used to invasion. For two hundred years the Vikings made it an important trading post, then it was the turn of the Anglo Normans. Now it's the turn of up to 40,000 music fans who travel to Cork each October to sample great music, atmosphere, food and fun plus plenty of the Dark Stuff aka Guinness. Click here!