Eyre Square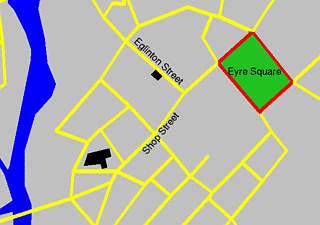 The tourist office at the lower end of Eyre Square stocks an impressive range of Irish interest books. Next door, the Aran Island tourist office is a good place to buy Aran-made crafts.
Archway Crafts and Antiques shop opposite the tourist office is stocks an excellent range of beautiful knits, unusual woollen hats, porcelain jewellery, leather work and local rush work.
The shopping mall, Eyre Square Centre has over 100 shops with everything from a needle to an anchor, with a creche to look after children for up to two hours. Options, a shop within the centre sells some pretty glassware and pottery from North of Ireland as well as Irish style exotica such as eelskin purses.
Roches Stores (Tel: +353 91 561211) near that area is a good place to find some gift-wrapped Irish linen and lace goods.
Fallers, just off Eyre Square, stocks a good range of contemporary and traditional design knitwear, with your traditional Irish tweed caps.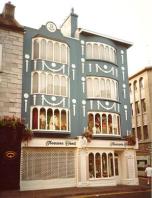 The Treasure Chest
Down Williamsgate Street is the fine store Treasure Chest (Tel +353 91 567237), which stocks an excellent range of quality Irish products; Belleek, Waterford Glass, Royal Tara China, and a wide stock of quality European gifts in glassware, china, linen , lace and tweed.
This is also a well known shopping haunt of the rich and famous and has been visited by Ronald Reagan and Sharon Stone.
The store close by, Mac Sweaters sells... surprise, surprise .... knitwear. Don't miss the cashmere selection.
On the opposite side of Williamsgate Street is a lane leading to Meadows and Byrne, which stocks a fantastic range selection of modern-style quality Irish -made pottery and glassware, hand-turned wooden bowls, chunky knit jackets. This shop also stocks the Fermoy range of oiled waterproof jackets and hats.