Latin Quarter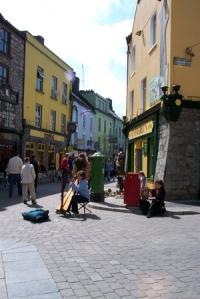 The front door of Kenny's Bookshop looks out onto High Street. The shop once described by Irish movie star Gabriel Byrne as his favourite bookshop in the whole world, is both an art gallery and quality bookshop with a long established and well respected name. Second hand and new books are stocked in a labrinethe of rooms with the occasional chair for those seduced by the writing or stories inside the pages. Signed photographs of artists, writers, actors and celebrities who are visited the store or who are long time friends of the Kenny family are displayed on the walls. Looking at this collection of photographs is almost as engrossing as the books or gallery itself. Allow yourself a lot of time to explore and lose yourself in this oasis of silence and culture. Once you have savoured the experience of Kenny's, it is probable that you will join that club of lifelong patrons and devotees.
All along the short cobblestoned stretch of the road, known as High street are small, interesting unique shops. Kelly's Crafts has a good range of goods, especially knits and pottery. Three Bags Full will sell you the wool to knit your own sweater or jacket.
A left turn at the bottom of High Street brings you to Cross Street and The Silver Lining Gift Shop which sells glassware, China and novelty gift items. Traditions sells Aran knits, and across the road in the Curiousity Corner, the shelves are spilling over with all kinds of lovely, unusual gifts.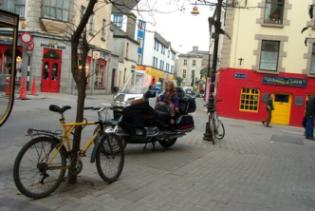 To the right of High Street, is La Maison, a shop selling quality European made gifts. Opposite is Judy Green's Pottery Workshop selling pretty, handthrown pottery. Large items can be wrapped and posted home to you.
Exclusive, very attractive designer knitwear is sold at Margaret Joyce in Quay Street directly opposite is Twice as Nice, where one can find a fine selection of vintage linen, lace and clothes. The Quay Lane Gallery is a small shop at the bottom of Quay Street which sells framed prints, as well as original work. Next door is Cobwebs, widely considered the prettiest shop in Galway with a delightful, seemingly infinite stock of pretty goods on display.