Court House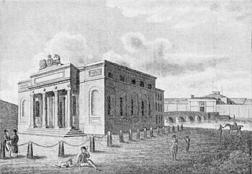 Engraving of court house from Hardiman's 19th century "History of Galway". Note Salmon Weir Bridge and Gaol (now replaced by the Cathedral) in background.
The county courthouse, which is in existence since 1818, was designed by Morrission and received much acclaim for its design and architecture. The building is currently undergoing major renovation and refurbishment work. This is now complete and the character of the building has been faithfully preserved.
Next door is the former Town Hall, which has also undergone a major renovation and reconstruction and is now the Municipal Theatre for the city. Originally used as a courthouse, from 1901 it became the Town Hall, Theatre and occasional cinema. In latter years it was used exclusively as a cinema until the opening of an Omniplex cinema in the city in 1994.