Lynch's Castle (AIB Bank)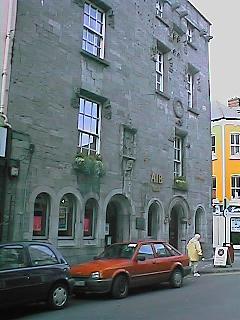 Located on the corner of Abbeygate Street and Shop Street, Lynch's Castle is a fine example of the fusion of new and old in Galway. The building has been cited as one of the finest examples of a town castle in the country. Town castles were popular homes for wealthy merchants in Ireland in the 15th and 16th centuries and Lynch's Castle dates back to this time. Over the years the castle has been modified, even though the original structure remains intact and beautifully preserved. It is particularly notable for the quality of stone carving on the exterior which features the Lynch coat of arms and a number of decorative windows.
The building is now occupied by AIB Bank and features a mini-museum at the front which is open during normal banking hours.