Saturday Market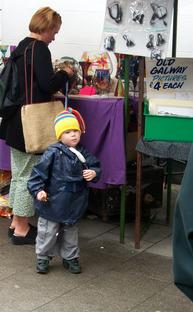 The Saturday market offers a wonderful selection of natural foods and novel and traditional goods and gift ideas which are excellent value. It is no wonder that locals and visitors throng the market all day long every Saturday, rain, hail or shine.
Located in the laneway between Shop Street and Market Street, (past Easons on Shop Street), as you walk between the stalls every one of your senses will be arrested by the cornocopia of smells, tastes, sounds and vision and lively atmosphere created by the interaction betwen the stall holders and browsers alike. Foods range from the fresh fruit and veg stalls to the quality gourmet stands selling about 20 different types of olives, fresh pasta, cheeses, home made relishes and sauces to gift stalls with beautiful celtic and delightfully novel jewellry crafted from silver and copper, books, colourful cards and bric a brac.
See more information (including map) on the Saturday Market in our Shopping Guide.

Some random images from the Saturday Market: