St. Nicholas Church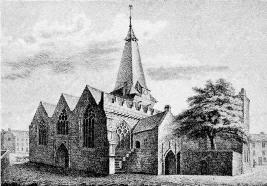 Engraving of St. Nicholas Church from Hardiman's 19th century "History of Galway"
The building that is the Church of Saint Nicholas was originally constructed in 1320 by one of the famous Lynch family (one of the tribes of Galway) and the present day structure is the result of over 600 years of rebuilding and extension. These have culminated to create one of the most historically interesting and aesthetically pleasing buildings in the city.
Local tradition says that Christopher Columbus prayed here before he set sail for America in 1492. The ornate design and embellishment, both outside and within, form a true representation of the symbolism and imagery evident in Medieval times. In particular, the gargoyles and mermaids carved into the exterior of the building are remarkably impressive.
The church was established as a Collegiate Church when Galway was granted a charter in 1484. It contains many unique features such as the tomb of the famous Mayor Lynch, reputed to have hanged his son for murder.