UCG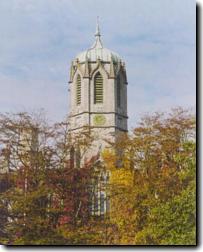 Quadrangle Clock Tower
The National University of Galway, Ireland (formerly known as University College Galway or UCG) was originally established as one of the Queens' Colleges in Ireland in 1845 and it officially opened in 1849. The buildings that make up the college proper nowadays were added to the original structure piecemeal, and this serves to enhance the attractiveness of the college.
The oldest and prettiest part of the college (the "Quadrangle") which contained the lecture halls and the old library and is a replica of the corresponding building at Oxford University and the stone from which it is built was supplied locally. Newer parts of the college sprang up in the 1970s and and were designed by architects Scott, Tallon, Walker.
The grounds of the university are open to the public and is well worth a visit. Aras Failte - a public information department was established in 1997 and the staff there will provide you with all the information you need. Aras Failte is located very close to the main Quadrangle building.
The official web site is at http://www.nuigalway.ie/.